Birthday Parties
Temporarily Suspended
A Scamps Gymnastics birthday party is a fun and unique way for any child to celebrate their special day with friends and family. Scamps 1 hour and 45 minute birthday parties are held on Saturdays at 2:45, 4:00, 5:15, and 6:30. Two parties are conducted during each time slot with parties booked beginning at 2:45. All parties are supervised by a trained Scamps instructor who leads the children in games, obstacle courses, trampoline activities, foam pit activities, time on our inflatable 18' slide and 30'obstacle course (if you choose the standard party + inflatables), and opportunities to experience different pieces of gymnastics apparatus. The first hour of the party is reserved for gym time. The remaining 45 minutes are for gift opening, refreshments, and clean up.
A $50 non-refundable deposit is required on all parties to secure the date. The birthday child is included in the number of kids and all guests must have a completed liability waiver to be able to participate in the birthday party activities.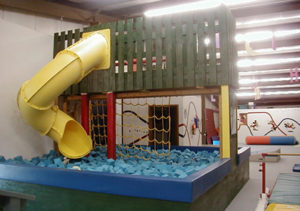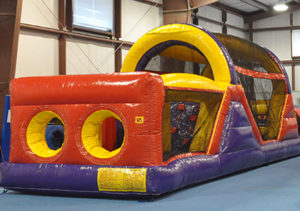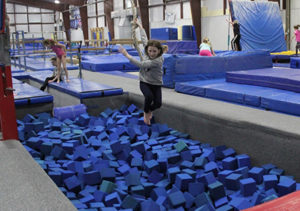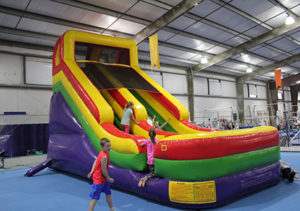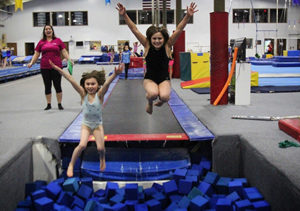 Party w/Inflatables    $200
Length of Party: 1 Hour 45 minutes
Gym Activities Time: 1 hour
Party Room Time: 45 minutes
Party Includes:
Facility Usage – Choice of Main Gym or Preschool Gym
Use of our 18′ Giant Slide and 30′ Obstacle Course
Party Set Up and Clean Up
Table and Chairs
Invitations
Number of Participants: Up to 11 children
(3 years and under must be accompanied by an adult)
Each Additional Participant: $10 per child
Standard Party    $165
Length of Party: 1 Hour 45 minutes
Gym Activities Time: 1 hour
Party Room Time: 45 minutes
Party Includes:
Facility Usage – Choice of Main Gym or Preschool Gym
Party Set Up and Clean Up
Table and Chairs
Invitations
Number of Participants: Up to 11 children
(3 years and under must be accompanied by an adult)
Each Additional Participant: $10 per child
Frequently Asked Questions